Tips on hosting an excellent digital event
Events have key components including presentations, panel sessions, Q&A, networking and sometimes workshops. Digital events can replicate all of these very effectively if the right platform is chosen. However, platforms do have a particular niche. This blog will save you time by offering simple solutions tailored to your event needs, giving you cost-saving advice, whilst giving important insights on platforms that could be used.
If you like what you read and want some support Better Century helps organisations like Low Carbon Homes deliver amazing events.
Single Stage
Single stage events include presentations, panel sessions, Q&A and networking. Other considerations should also be about branding and associated sponsorship.
If you go with zoom (£32 a month for 100 attendees) you face problems around branding and live management of the event such as screen sharing, preparing panel sessions and muting, with there being very little opportunity for networking. There are more professional platforms that alleviate these problems such as Hopin ($99 (£74) a month for 100 attendees) which offer branding, sponsorship space, networking, multiple rooms, speed networking and even support the use of recorded sessions.
An alternative is to stream your event. This is done through OBS which allows for a technician to take zoom inputs and place them onto a branding background, and then control what is on screen. You can even cast directly to a youtube channel or your own website and save money on zoom webinar.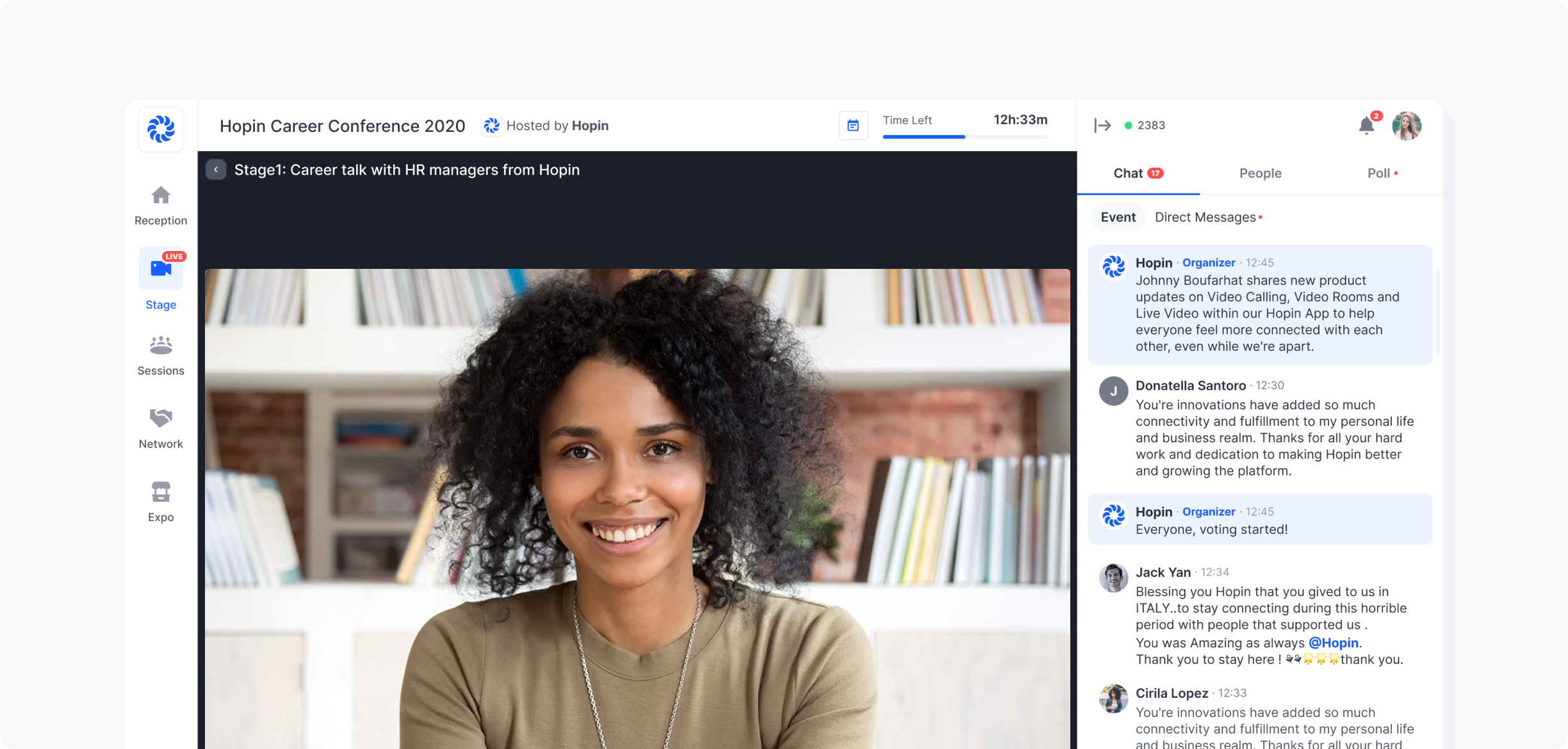 More sophisticated platforms such as SwapCard, HeySummit, Crowdcomms and Brella use this type of technology alongside networking and Q&A integration. As you can also stream recorded sessions, you therefore have a virtual green room through zoom, making this the gold standard for single stage events.
Our recommendation is to properly plan your event and move away from zoom into either a streamed system onto a system like Hopin. The investment of time will allow you to brand and take away glitches, giving better audience engagement.
Virtual Engagement Spaces
Having a virtual space can make people feel like they're attending a real event. Engagements can happen during an event and then you will be disrupted by an activity. Breaking up presentations and panel sessions and allowing people to have a conversation with one another about the content is natural, and gives events a proper conferencing and networking opportunities in the context of the event topic.
There are platforms that support this type of virtual space whilst also giving a stage for engagement as well. They all offer uploading of recorded content and the ability to manage speakers behind close doors. Here's two platforms which could help you:
Remo is a pricey option at $1,200 per annum but gives great table interactions alongside a good virtual stage and whiteboard function for joint working. Branding and ability to tailor the platform is amazing, and it even can be integrated into our spaces.
Airmeet is an amazingly low priced option with there even being capacity to use the system for up to 100 attendees without payment, $99 a month is the next step up with up to 1,000 attendees. We've looked into this system and it provides really cool virtual engagement and is very easy to manage, but isn't quite as brandable.
The alternative to these systems is Zoom, through break-out rooms, but we feel these platforms really offer a step up in terms of engagement and branding. For little or no additional money your organisation can get a great experience for users!
Need some help in setting up an amazing event?
Look no further – Better Century can help. We've got a great team of consultants that can help you plan, market and deliver your event. Get in touch with Tom through tom@bettercentury.org to set up a non obligatory meeting.